Biography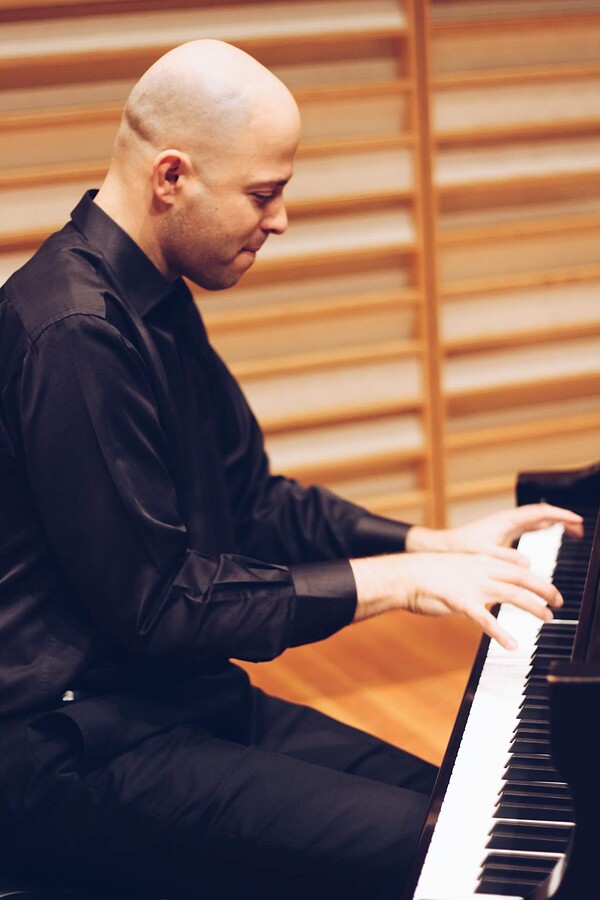 Praised as possessing both "ironclad technique" and "ample suppleness" by The New York Times, Eliran Avni is an emerging force in the contemporary classical music scene. Hailed as "The new hope of Israeli music" by Ma'ariv (Israel's main newspaper), he made his debut with the Israel Philharmonic Orchestra under the baton of Zubin Mehta at age 17. Since then, he has appeared as a soloist and chamber music collaborator throughout Europe, North and South America, as well as in his native Israel, and has played for live broadcasts for the Israeli and German broadcasting systems.

As a soloist, Eliran is known as a preeminent interpreter of the music of composer Avner Dorman. Solo performance highlights include Dorman's Azerbaijani Dance with the Israel Philharmonic and Zubin Mehta at Carnegie Hall, Rachmaninoff's 3rd Piano Concerto with the Alabama Symphony, and the Grieg Concerto with the Oakland East Bay Symphony.

Having developed a strong affinity for chamber music after studying with world-renowned musicians Yo-Yo-Ma and Isaac Stern, Eliran has collaborated with numerous artists such as Yehonatan Berick, Daniel Müller-Schott, Sharon Kam, Terrence Wilson, William Sharp, and the Chicago Chamber Music Players, as well as actors Sigourney Weaver and Richard Chamberlain. In 2010, Eliran founded SHUFFLE Concert, a mixed chamber ensemble of six virtuoso musicians based on his original performance concept which has the audience select music to be performed during the concert from a varied list of composers and genres. He served as Artistic Director of the ensemble from 2010-2018, performing throughout the US, Canada, and Israel.

On the recording front, Eliran has recorded for the Naxos, Tzadik, and SHUFFLE Concert labels. He has recorded two CDs of composer Avner Dorman's music: "The Piano Works of Avner Dorman," recorded at Tanglewood's Ozawa Hall and produced by Grammy winner David Frost, and a recording of Dorman's Chamber Concerti with the Metropolis Ensemble and Maestro Andrew Cyr, both for Naxos. For Tzadik, he performed chamber music on composer Andrew Laster's album, "Andrew Laster: Riptide." With SHUFFLE Concert, he released its original self-titled album.

A charismatic lecturer and teacher, Eliran has presented master classes and lectures on the connection between music and emotion in both the United States and Israel and has taught at prestigious institutions such as The Juilliard School and the Bowdoin Summer Music Festival. He is currently teaching "The Musician Toolkit" course at SUNY Fredonia which is designed to assist artists with stage anxiety.

Having begun his childhood musical training at the Tel Aviv Academy with Marina Bondarenko, Eliran won first prize in both the Clairmont and Rachmaninoff Competitions at the age of 16. From 1989-2000, he was an annual scholarship recipient of the America-Israel Cultural Foundation.
Eliran received both his BM and MM degrees while studying with Dr. Yoheved Kaplinsky at The Juilliard School and completed his DMA degree as a student of both Dr. Kaplinsky and Jerome Lowenthal. His dissertation: "The Musician's Challenge: Merging Emotion and Structure in Performance", written under the advisement of Carl Schachter, presents an original methodology designed to assist musicians in discovering and understanding the emotional content of musical works.
Eliran is currently a piano faculty member at SUNY Fredonia and a member of the Ekstasis Duo with cellist Natasha Farny. Since their debut in 2018, Ekstasis Duo has appeared on reputable series including New York City's Merkin Hall, Saugerties ProMusica, and Rochester's Live from Hochstein, and the Del W. Webb Center, Their debut CD "Women's Voices" will be released on October 10th.